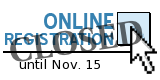 The Canadian Mathematical Society (CMS) and the University of British Columbia invite the mathematical community to the 2010 CMS Winter Meeting. The program will include ten plenary and prize lectures, and a wide variety of sessions.
All scientific talks and social events will take place at the Coast Plaza Hotel and Suites (1763 Comox Street, Vancouver).
Several events are planned for students: A student social, a panel discussion and a poster session. Details will follow shortly.
Student Poster Awards:
AARMS Award - Peter Bell (UBC)
CMS President's Award - Brittany Froese (SFU)
CMS Student Committee Award - Garret Flowers (Victoria)
Presentations:
NSERC Long Range Strategy Plan
NSERC Research Funding Panel
CMS Town Hall Meeting