Accommodation
The hotel listed below is offering rooms at a reduced group rate during the conference as well as three days prior and three days after the conference. To be eligible for the reduced room rates, participants must make their reservations before the dates indicated. Reservations made after the deadline will be on a space available basis and the group rate may no longer apply.
Rates are per room per night and are quoted in Canadian dollars. Reservations must be guaranteed by a major credit card. It is recommended to clarify payment and cancellation policies when making the reservation, as these vary from hotel to hotel.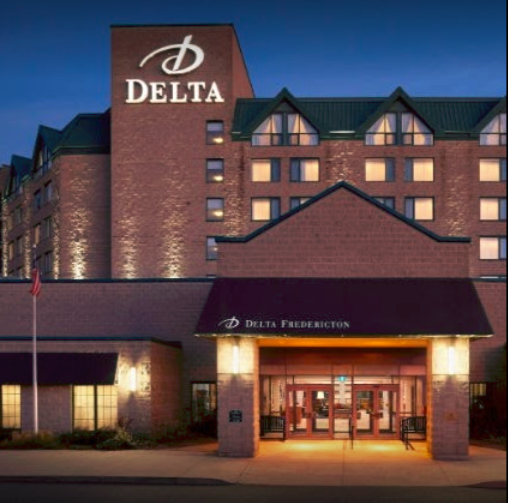 Delta Fredericton
225 Woodstock Rd, Fredericton, New Brunswick E3B 2H8
For Reservations:
Call: 1-888-236-2427 or hotel directly at (506) 457-7000 and indciate you are with the 2018 Canadian Mathematical Society Summer Meeting
Single and Double Guest Rooms and Deluxe Guest Rooms: $149.00 You may book your hotel room online by clicking here.
Rates include: Complimentary Wi-Fi Internet access
Arrival: 3pm Departure: 11am:
The cut-off date for reservations is : May 10, 2018
The CMS room block at the Delta Fredericton is sold out. For additional hotel options please see below:
Comfort Inn (Located on Prospect Street, not far from UNB or the Delta Hotel)
Address: 797 Prospect St. Fredericton, NB E3B 5Y4
Phone: 506-453-0800 Comfort Inn
Riverside Resort (Located beside the river, 15 minutes for the Delta Hotel)
Address:35 Mactaquac Road, French Village, French Village, NB E3E 1L2
Phone: 506-363-5111 Riverside Resort
Ramada by Wyndham (Located on the North side of the river)
Address: 480 riverside Dr, Fredericton, NB E3A 8C2
Phone: 506-460-5500
Ramada by Wyndham

Days Inn (Located in Oromocto, outside the city)
Address: 60 Brayson Blvd, Oromocto, NB E2V 4T9
Phone: 506-801-8548
Days Inn

University of New Brunswick Residence Accommodation
Suite Style Residence
Each room in the suite has a double bed, desk, armoire and dresser. In addition to the bedroom(s) each suite also includes:
a washroom
furnished living room
full kitchen
a phone with local calls
high speed wireless internet)


Rate:
2 Bedroom Suite: $92.40/night
3 bedroom Suite: $126.50/night


Traditional Style Residence

Traditional Style Residence offer the true residence dormitory experience. each room is equipped with either one or two twin beds, a desk and a wardrobe.
these rooms have shared washrooms on each floor and have free wireless througout the building.

Rate:

Double Bedroom: $68.75/night
Single Bedroom: $44.00/night


There are a few ways to register:
1. Email stay@unb.ca and quote CMS 2018


If you are interested in shared accommodation, you can fill in your name here for others to see. You are responsible for contacting names on the list. CMS is not responsible for finding shared accommodation, we are providing this as a tool to help anyone wishing to find shared accommodation.