MEDIA RELEASE
---
August 2, 2016
CRM Doctoral Graduate Recognized for Research Excellence
Vincent X. Genest to receive the 2016 CMS Doctoral Prize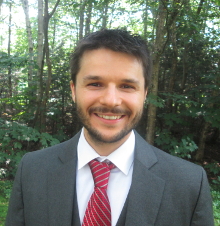 The CMS Doctoral Prize recognizes outstanding performance by a doctoral student who graduated from a Canadian university in the preceding year (January 1 to December 31). The first award was presented in 1997.
About the Canadian Mathematical Society (CMS)
Founded in 1945, the Canadian Mathematical Society (CMS) promotes the advancement, discovery, learning and application of mathematics. The CMS promotes mathematics through a rich array of activities including: scientific meetings; publications; awards; prizes; grants; camps and competitions. As the national math association, the CMS represents Canada internationally to other societies as well as organizations such as the International Mathematical Union (IMU).
For more information, please contact:
Melissa Bingol-Phillips
Special Projects Coordinator
Canadian Mathematical Society
Tel: 613-733-2662 ext. 728
commsp@cms.math.ca
or
Ailana Fraser (UBC Vancouver)
Chair, CMS Research Committee
Tel: 604-822-2785
chair-edc@cms.math.ca