MEDIA RELEASE
---
June 7, 2016
Top six Canadian mathematics students selected for Math Team Canada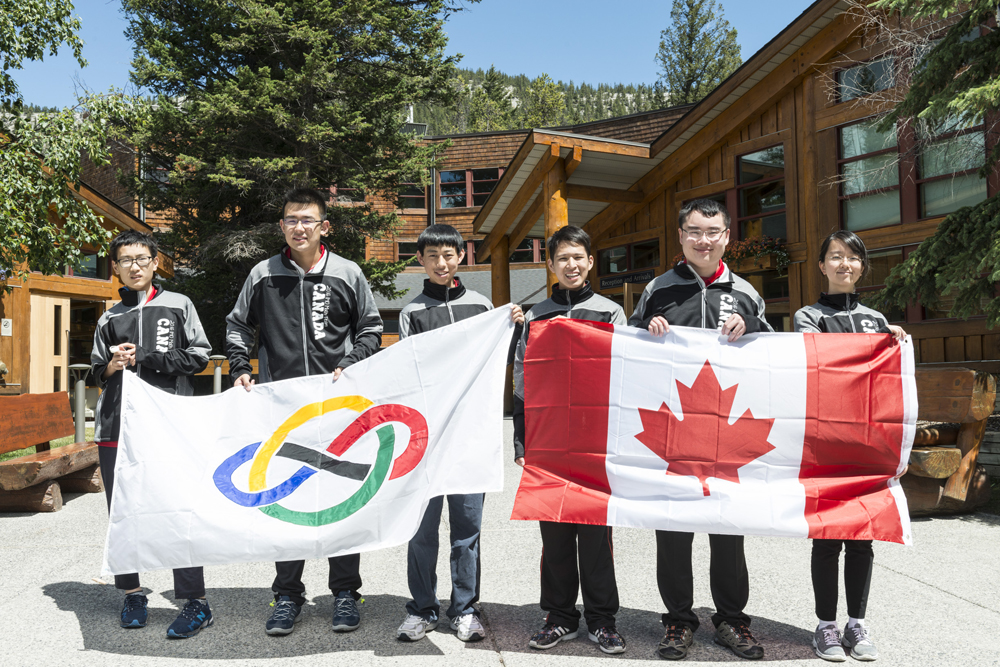 OTTAWA — Six of the country's best mathematics students will represent Canada as part of Math Team Canada. Andrew Lin (University Hill Secondary School), Qi Qi (Phillips Exeter Academy), Kai Sun (A.B. Lucas Secondary School), Kevin Sun (Phillips Exeter Academy), Ruizhou Yang (University Hill Secondary School) and William Zhao (Richmond Hill High School) will represent Canada at the 57th International Mathematical Olympiads (IMO) in Hong Kong from July 4-16.
Math Team Canada members were selected based on their performance in a series of national math competitions supported by the Canadian Mathematical Society (CMS) and international competitions.
"The IMO is the world's foremost contest for high school mathematics," said Jacob Tsimerman, Chair of the CMS International Mathematical Olympiad Committee. "This year, our team is incredibly talented, and I am proud to have them represent Canada in the international arena!"
The 2016 team includes one returning member from Math Team Canada 2015: Kevin Sun. It also includes two of the top three winners of the 2016 Sun Life Financial Canadian Mathematical Olympiad (CMO) competition: Kai Sun and William Zhao.
"It is a true honor to be selected as one of the six Canadians to represent Canada in the 2016 International Math Olympiad," said CMO 1st Prize Winner Kai Sun. "I have prepared for this moment for many years and I am continuing to work hard to represent Canada well in the IMO, so this really is a dream come true."
The team will first travel to Banff, Alberta for two weeks of intensive training at the Banff International Research Institute (BIRS) from June 26 to July 8. The 2016 Summer IMO Training Camp will allow Math Team Canada members to bond and prepare for the intense competition with the team leaders.
The leaders for Math Team Canada 2016 are:

• Robert Morewood (Team Leader), trainer of previous Canadian IMO teams and member of the IMO Jury in 2006;
• Hunter Spink (Deputy Team Leader), member of Canadian IMO teams from 2009 to 2011, and current graduate student at Harvard University; and
• Patrick Lopatto (Deputy Team Observer), graduate student at Harvard University.

Math Team Canada will compete at the IMO in Hong Kong. Canada has participated in the IMO since 1981. Last year, Math Team Canada placed 9th overall at the IMO in Chiang Mai, Thailand and one team member, Alex Song, was ranked by the IMO as the top mathematics in the world after earning a perfect score in the competition.
2016 Math Team Canada Biographies
About the International Mathematical Olympiad (IMO)
The International Mathematical Olympiad (IMO) is the world championship high school mathematics competition. The IMO began in 1959 in Romania with seven participating countries. Math Team Canada expects to compete against the world's best students from over 100 countries in the 57th IMO. Canada has earned 29 gold, 47 silver and 84 bronze medals since first competing in 1981.
About the Banff International Research Station (BIRS)
The Banff International Research Station for Mathematical Innovation and Discovery (BIRS) is a collaborative Canada-US-Mexico venture that provides an environment for creative interaction as well as the exchange of ideas, knowledge, and methods within the Mathematical Sciences, with related disciplines and with industry. The research station is located at the Banff Centre in Alberta and is supported by Canada's Natural Science and Engineering Research Council (NSERC), the U.S. National Science Foundation (NSF), Alberta's Advanced Education and Technology, and Mexico's Consejo Nacional de Ciencia y Tecnología (CONACYT).
About the Canadian Mathematical Society (CMS)
Founded in 1945, the Canadian Mathematical Society (CMS) promotes the advancement, discovery, learning and application of mathematics. The CMS promotes mathematics through a rich array of activities including scientific meetings, publications, awards, prizes, grants, camps and competitions.
For more information, please contact:
Jacob Tsimerman (Toronto)
Chair, International Mathematical Olympiad Committee
Tel: 416-736-5250
chair-imoc@cms.math.ca
or
Melissa Bingöl-Phillips
Special Projects Coordinator
Canadian Mathematical Society
613-733-2662 ext. 728
commsp@cms.math.ca
*Note: the content of this page was updated on July 5, 2016